Give to the Rose Float
The Cal Poly Rose Float has been jointly created at the Pomona and San Luis Obispo campuses since 1949. It is the only student-built float in the annual Pasadena Tournament of Roses Parade. Cal Poly students have been building rose floats for over 70 years. Student Don Miller deserves credit for getting Cal Poly into the annual Pasadena Tournament of Roses Parade. His family, long-time residents of Pasadena, had a history of involvement with the parade. As a proud Cal Poly student, Don Miller had openly spoken about his belief that Cal Poly could create a Rose Parade float.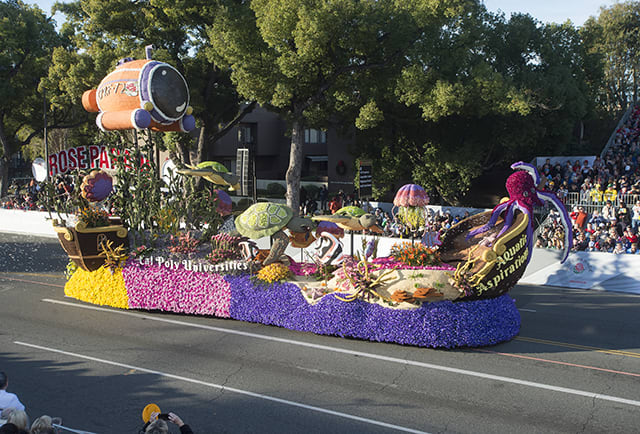 2020 Rose Float "Aquatic Aspirations" - Winner of the Director Award
2019 Rose Float "Far Out Frequencies" - Winner of the Extraordinaire Award
2018 Cal Poly Rose Float "Dreams Take Flight" - Winner of the Presidents Award
2017 Cal Poly Rose Float "A New Leaf" - Winner of the Founders Trophy
The Cal Poly floats have led in introducing technology to the Parade, including the first use of hydraulics for animation in 1968, the first use of computer-controlled animation in 1978, the first use of fiber optics in 1982, animated deco in 2014, and the first to create a color-changing floral effect in 2017. As of January 1, 2020, the floats have won 60 awards. This program is one of the longest consecutive running self-built entries in the parade, as well as the only "self-built" float designed and constructed entirely by students year-round on two campuses. They compete against professional float builders who manufacture entries for sponsors, many of them with development budgets approaching $1 million. This tradition continues today and marks the partnership between the two campuses.