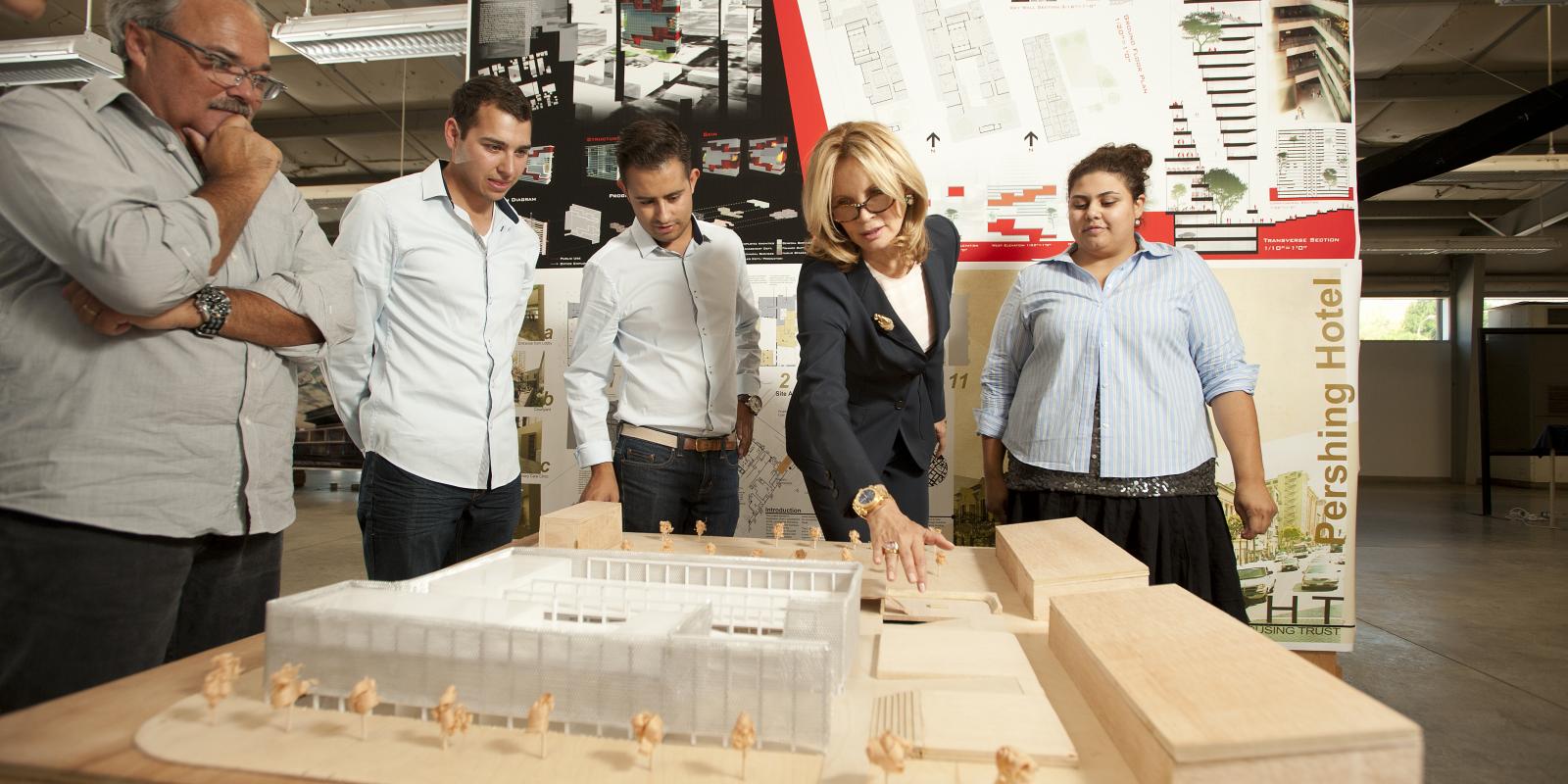 The College of Environmental Design (ENV) connects people, places and the environments in which we live, work and play. Its nationally ranked programs in architecture, landscape architecture, urban and regional planning, and visual communication design and art history, positions ENV to educate and train design professionals to shape the future of built and natural environments with resiliency and justice.
ENV is a leader in design and innovative problem-solving for communities in Southern California and around the globe. Learn more at http://env.cpp.edu/env/env-national-rankings.
Make a difference.
Your investments play a critical role in the lives of our students, the strength of our college, and our ability to make advances in the planning and design fields that impact society. The College of Environmental Design and its departments rely on the generosity of alumni and friends to help us sustain our standards of excellence as a learn-by-doing institution.
During this unprecedented time, we are committed more than ever to the success of our students. We invite and appreciate your support. Gifts of any size will have an immediate impact.  
_______________________________________________________________________________
College of Environmental Design Dean Emeritus Marvin J. Malecha. (Image courtesy of Cindy Malecha)
About the Marvin J. Malecha Scholarship
To honor the legacy of former Dean Marvin J. Malecha, FAIA, world-renowned architect, educator, former president of the American Institute of Architects, the College of Environmental Design is working to establish the Marvin J. Malecha Scholarship.
Malecha served as the Dean of Environmental Design at Cal Poly Pomona from 1982-1994. He was the architect of a number of the building projects on the CPP campus, among them the W. Keith & Janet Kellogg Gallery and the Interim Design Center (IDC). During his tenure, the Lyle Center for Regenerative Studies was established, and the Neutra VDL Studio and Residences was donated to Cal Poly Pomona.  
As an educator and a leader, Dean Malecha was known for promoting gender parity in both the faculty and student body. This scholarship honoring his legacy is intended to support the University's commitment to diversity and inclusion and to make higher education more accessible to all.  
The goal for this endowed scholarship is $100,000. In the event the amount raised is less than $50,000 by June 2024, the funding will not be endowed and instead will be kept in a spendable account for supporting an annual scholarship until the funding is exhausted.
How your donation helps
Your generosity will help honor Dean Malecha's vision of making education accessible to students that represent the diversity, ingenuity and promise of the next generation of designers. 
Dean Malecha's scholarship is one of many endeavors the College of Environmental Design has embarked upon to honor its long-standing commitment to educate and train future design professionals by helping them realize their higher education goals. There are many ways to support this mission at the college and department levels. Other giving opportunities include scholarships and critical funding areas in the departments of Architecture, Art, Landscape Architecture, and Urban and Regional Planning. Click on the buttons below to learn more.
---